Five Reasons Why SEO Audit Is Important For Your Business
Among the most enigmatic aspects of digital marketing, the landscape is search engine ranking algorithms. Eventually, no matter how diligent you are with the content and web design, there's a significant probability that your rankings will suffer at some time. It is because the qualities that Google may choose to praise one day be the characteristics that it determines to penalize the next.
While it's impossible to completely protect yourself from SEO blunders, an SEO audit could be the key to preventing any major errors. Furthermore, evaluating your website guarantees how you can stay back on course as soon as possible once any issues arise.
What is an SEO Audit?
The mere mention of the term audit may make any business owner shiver. Audits, on the other hand, are almost always beneficial. An SEO audit is having an expert check your website's nooks and corners for any symptoms of search engine difficulties. Remember that Google examines over 200 ranking factors when calculating where you should appear for any particular keyword search.
This generally means extracting data from Google Analytics, Google Search Console, and other more specialist SEO tools on your website and presenting you with a summary of its current performance, strengths, and possibilities for improvement.
An SEO audit's goal is to determine how many of the recognized ranking factors you already have under your control, including which SEO areas you still need to work on. While you can undertake audits on your own, having an expert do it for you with the aid of specialized auditing tools is frequently considerably easier (and more accurate).
How can it help your business?
To find weaknesses in the website
The first and most obvious advantage of an SEO audit is that it reveals the flaws in your site and approach for appearing at the top of search results.
Reviewing your website is the only way to evaluate whether you have all of the necessary inbound links, meta-descriptions, keywords, and other critical components in place to grab the attention of search engines. Even if you believe your SEO approach is great, there's a strong chance you're still using some old-school tactics that are either:
Your ranking attempts are no longer supported.
Trying to move your rank in the other way is a bad idea.
Google's algorithms are updated regularly. Even something as simple as having too many keyword phrases on your landing page might sabotage your SEO nowadays. Previously, with a higher number of keywords, you could help your page rank better which is not accepted anymore. So, auditing puts your business ahead of the competition.
To improve the performance of your website
Google strives to provide its users with the greatest possible surfing experiences across all gadgets. This entails offering timely, high-quality material from trustworthy sources. Unfortunately, having the correct information on your website is insufficient. You must also persuade the search engine that your website is safe and simple to use on smartphones as well as desktops.
No client wants to visit a website that takes a long time to load, displays incorrectly, or has broken links; this is more likely to lead to a high bounce rate. An SEO assessment will reveal any faults that are negatively impacting your user experience. These issues might be connected to your website's mobile device compatibility, page load speed, or broken links.
Some of the UX concerns will be simple to resolve right away. Other aspects of your official site might take a little longer to complete. Regular audits will enable you to keep ahead of any issues as fast as feasible.
To calculate the impact of the improvements
It is important to conduct an SEO Audit before optimizing your website. It provides you with a benchmark against which you can measure the success of your efforts. The initial audit will give you all of the information you want on the health of your site in terms of SEO. Based on it, you can prioritize chores and make data-driven judgments while preparing for the future.
You can analyze the findings of the next assessment with the prior one a few months later, after you've implemented some modifications and improved your website, to see what you've accomplished. Focusing on your site without routinely evaluating it, on the other hand, will make it difficult to monitor the proper indicators and enhance the effectiveness of the actions you've done.
To understand the effectiveness of the keywords
We all know how important keywords are for SEO.
Greatest business executives, on the other hand, are unaware of which keywords are providing the most value to the firm. An SEO audit may reveal where you're receiving the most clicks in the search engine results and which keyword you should focus your marketing efforts on.
An analysis of your SEO might suggest that you're focusing on keywords that aren't relevant to your target market. Alternatively, you may discover that you're bringing clients to your website who you've never thought to contact before. You could even realize that some of your finest content isn't performing because it isn't optimized properly. Going back and reworking some of your older blogs and other content with a better grasp of your keyword approach might radically reinvigorate your site.
To keep track of the keywords rank in the search results
The number of keywords for which your site has been ranking, and how you rank, are both important indicators of your site's performance. SEO audits may provide you with extensive information on your current position in this regard, as well as possible explanations for bad performance.
Regular SEO audits will allow you to keep track of how you position and for which keyword. A positive trend suggests that you are doing a good job with search engine optimization while recognizing decreasing trends will allow you to rapidly solve key concerns.
Wrapping Up
Ultimately, if you want to make the most of your SEO strategy, you must be committed to refining and upgrading your campaigns regularly. An SEO Consultant will guarantee that you're making adjustments to your website to keep up with industry trends or to keep up with what your rivals are doing. With an assessment, you may create a tailored success plan.
Developing customized error pages, re-designing your link-building approach, or developing content foundations that make your material easier to index are all examples of this. There is no one-size-fits-all solution to ranking well in search engines, yet an in-depth audit will provide you with the data you need to determine what you need to do to flourish online.
Regular audits can help you stay on top of SEO concerns before they turn into Google penalties. Furthermore, having a better grasp of how your organic rank strategy works might help you outperform your competitors on search result pages.
Recommended Posts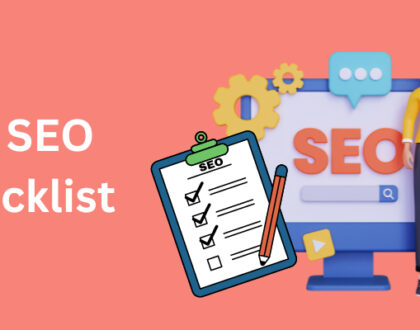 June 15, 2023